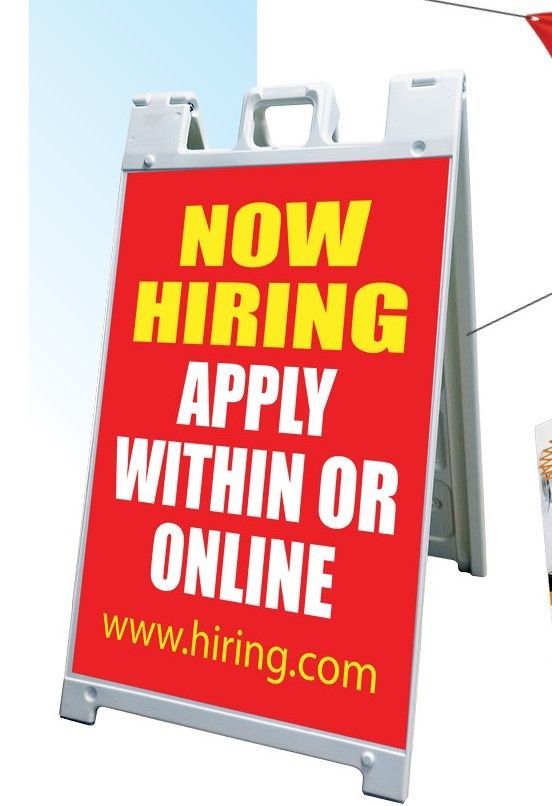 Everyone is hiring. You need employees and so does everyone else. It's definitely a competitive situation, so how can you stand out?
One of the things you can do right now is look at your possibilities with signage. In these times you need more than the red letters and black background "Now Hiring" sign in the window. Although it is better than doing nothing.
Much better is a vinyl banner. Vinyl banners are easy to install, very colorful, and depending on your building, they can be made large enough to attract attention.
Vinyl banners can be hung outside your office and attached to the building. Or you can place stakes in the ground and attach the banner to the stakes. For what you get, vinyl banners are inexpensive and can be used over and over as needed.
If you want to go even bigger and add some motion, a feather flag is an option. Most flags stand about 15 feet tall. There isn't a lot of room for detailed messaging but "Now Hiring" or "Hiring Drivers" can be fit onto a flag.
Flags can be broken down and stored once a hire is made and don't take up a lot of room.
If you are in a strip mall that restricts signs, you could still put up an A-frame sign or sandwich board. Texas Printers offers signs that allow you to change out the message. So once you are hired up, you can use the A-Frame to promote sales.
And if your business is on the move, take a look at yard signs. They can be placed at a job site or in front of a warehouse/office. Yard signs are inexpensive, portable and easy to store.
Everyone is advertising on Facebook and Indeed. Often with poor results. Sometimes the right signage can bring in who you need with very little expense. It's definitely another way to get the word out.
Texas Printers offers all of these products and free design on many items. Let us know how we can help you get great-looking signage and more applicants.