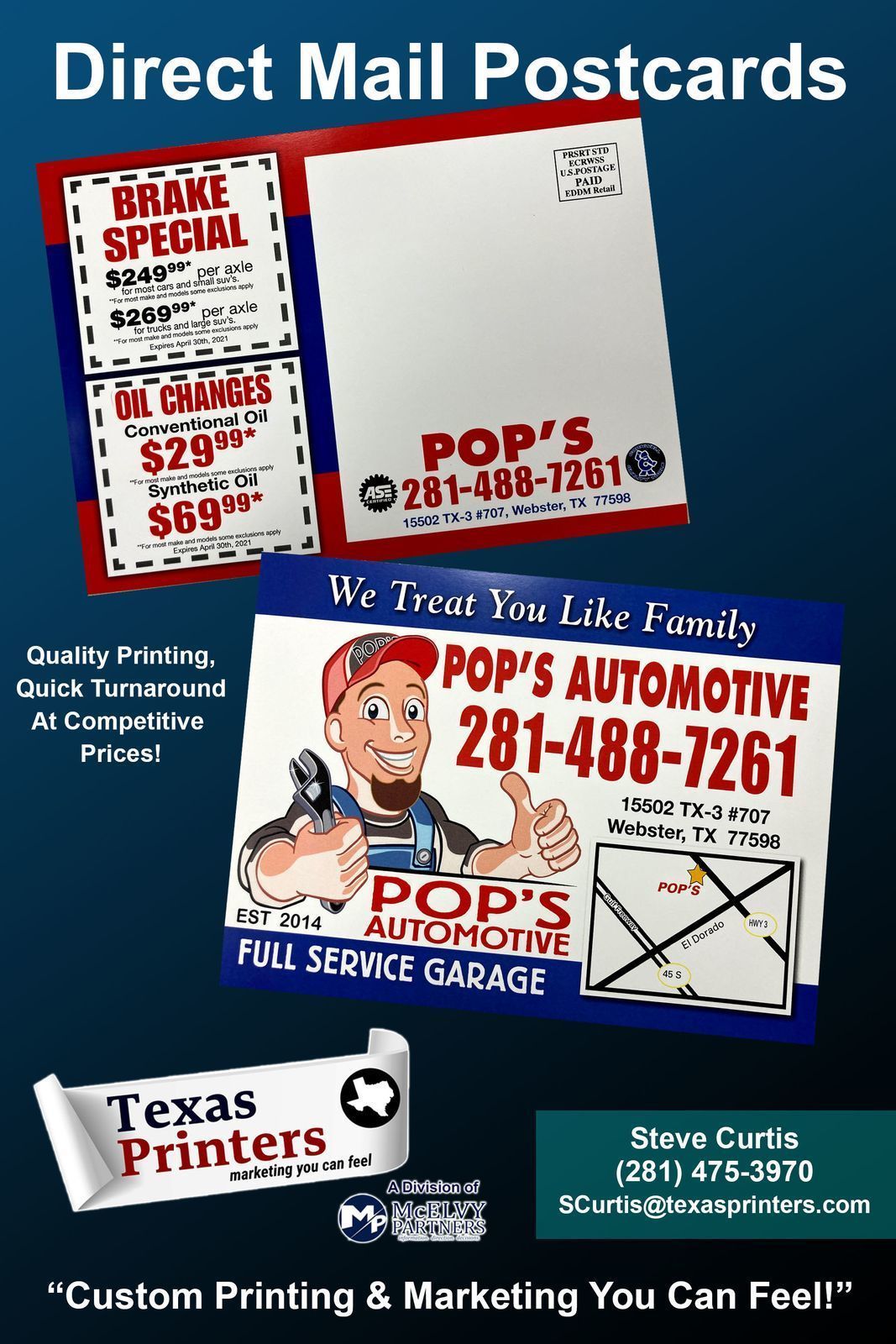 Advertising appears in your mailbox not because people like to donate to the post office, but because direct mail advertising works.
Direct mail advertising has been around a long time and has survived competition from many other forms of media. In the digital age, direct mail still shines because it can be targeted and can complement a digital campaign.
There are several ways to mail promotional materials and below are three services offered by Texas Printers to get direct mail working for our clients:
Every Door Direct (EDDM)
This type of mailing requires no permit. You simply pick routes and zip codes you want to mail to, print up a postcard, bundle the mailing to USPS specs, fill out the paperwork, pay, and take the job to the post office. Texas Printers can do all of this for its clients to simplify the process.
EDDM is great for small businesses because the mailings can target a neighborhood and can be small, even under 1000 homes. A good EDDM mailing can have a local, community feel. Postage rates and production costs are low.
The downside of EDDM is that it cannot target because it is saturation mailing. So a service shop that specializes in diesel engines can send a postcard to the owner of an electric car.
Another downside of EDDM is that 4x6 postcards are not eligible.
Targeted Mail From A List
The owner of the diesel repair shop can purchase a list of diesel owners near his shop and mail to them. This makes the mailing much more efficient.
For this type of mailing we would buy the list, print the cards, and mail. The client can control the cost of the mailing by determining how much of the list they want to mail to.
Targeted mailing can work very well and can be married to a digital ad campaign. The downside is that postage costs for this type of mailing are more expensive than EDDM and the client has to pay for the targeted list.
Mail To Your Customers
Established businesses can send offers and information to their customer list. These mailings can take the form of a newsletter, a postcard with a note, or a set of coupons.
These mailings are often very profitable because the business is mailing to established customers who trust the business. These mailings can also build loyalty.
The downside is the business does not reach new customers and any type of mailing to a customer list needs to be paired with a component to reach new prospects.