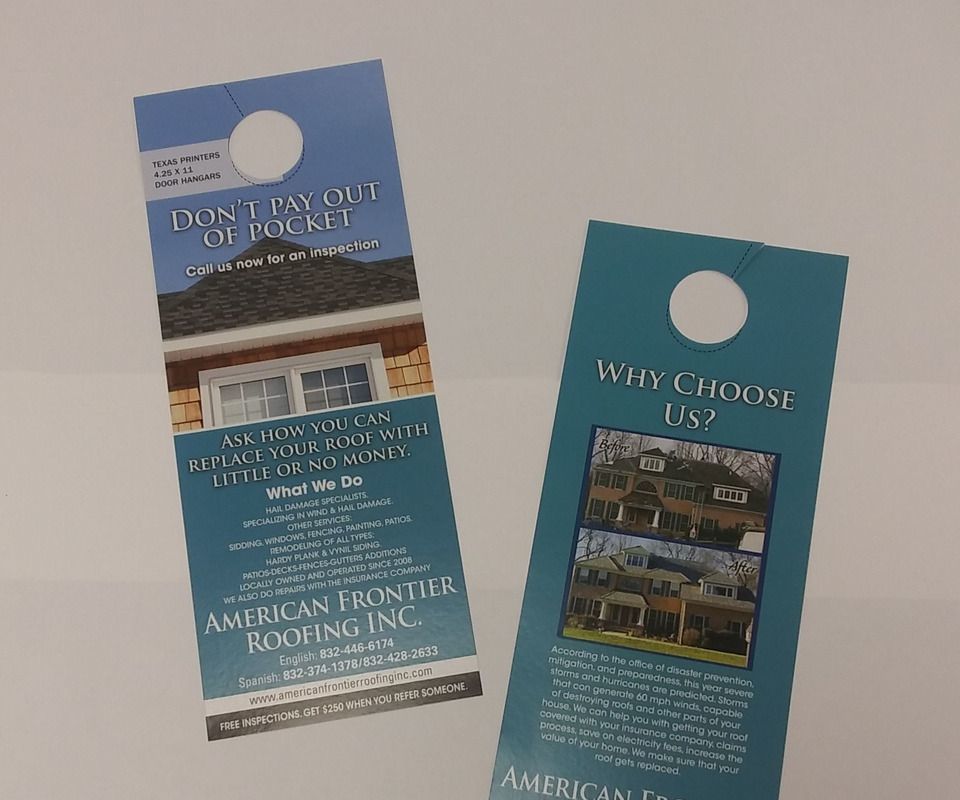 Door hangers are a sure way to get a message picked up and read. There really isn't another way to get "front door advertising." Because of this, door hangers usually get a strong response.

They are used for everything from political campaigns to maids hoping to clean a home. Any message you would place through direct mail you can utilize on a door hanger. A door hanger can be used to advertise a discount on a service or even a neighborhood community meeting.

Door hanger printing quality can vary greatly. Economy door hangers are printed on thinner stocks and often the "hanger" portion of the card is not fully punched out. More expensive hangers come completely punched out and on heavier papers with slick coatings.
The product you pick often depends on your use and the image you seek. If you want a high-end image, select 100 lb. cover paper and an aqueous coating. This product will also resist wind and humidity well. The price is higher than an economy model and turnaround time is longer.
If you are OK with a lighter stock of paper and need it fast, then pick our economy model. You can usually get those 2-3 days after the design is approved.
Always print on both sides of a door hanger. Waste no space. It's not uncommon for two businesses to go in on a door hanger together with each business taking a side.
As with most advertising, make a strong offer and include a call to action: "Now Through July 31 Save 50 Percent On Carpet Cleaning."
Geography can also be emphasized: "This Offer Is Only Good For Hidden Valley Residents."
Getting your door hangers is easy, getting them out is often more of a challenge.
Distribution
There is a lot to be said about door hanger distribution. Unless you do it yourself, you will be paying someone to put them out. Verify that the hangers have been properly distributed before you pay for the service. This is critical. And you can pay up to 30 cents per door to have your hangers distributed.

If that sounds expensive, trying walking 10 miles a day through a neighborhood. Putting up door hangers is work and you are out in the elements. Remember that if you decide to hire high school kids to put out your hangers.
Other tips if you decide to form your own door hanging crew:
Some neighborhoods restrict door-to-door canvassing so know the rules before hanging
Wear bright vests so you are clearly visible
Carry your hangers in a bag with a shoulder strap
Do not walk across lawns. Use sidewalks or the street
If someone asks you to leave their property, do so
Do not hang on homes that appear to be vacant
Map out your strategy so that you hit all of the streets you intend
Wear running shoes as you could be logging 10 or more miles a day